EUROTRACKER ET-20 VTS (AIS 140 Compliant Device)
VOYAGER is a field-proven intelligent Transport Management System (ITMS) that incorporates the finest in global position tracking technologies, customised and ruggedized to meet the demanding requirements of India's transport sector. From the basic low-cost, high- reliability, Vehicle Tracking System (VTS) for truckers, to the complex, integrated, multi-platform Passenger Information System (PIS) for discerning transport operators, this product fits every need and pocket, just right.

For truckers and fleet operators, vehicle are "Plant and Machinery". The more time they are able to deploy their vehicular assets productively, the more the revenue, and better the profitability. The first step in being able to derive maximum vehicle productivity is to know their location in real-time, all the time.

EUROTRACKER VTS is ideal for truckers and fleet operators wanting to keep a tab on the location of their vehicles. It helps the fleet manager to know the movement of his vehicles, in real time, on a map of the area. This data is also stored on the computer and is always available to the customer to carry out after-the-event analysis of an event. It heralds the cutting-edge in "Driver Compliance" technology, and allows the user to monitor parameters like.
Location of vehicle in real-time
Deviations from route/unauthorized stoppages
The route followed by the vehicle during the course of its journey with time stamp
Driver behavior
How it Works?
The system consists of a Vehicle Monitoring Unit (VMU) mounted in the vehicle which keeps on logging vehicle data such as vehicle location (made possible through use of Global Positioning Satellite GPS System module inbuilt into the VMU) , speed, time etc. This data is retrieved at the Control Room (which can be at Eon's data center or client premises) using current day telecommunication technology like GPRS, where it is processed using sophisticated EUROTRACKER software running on a bank of servers in the data center, and presented to the client in an easy to understand manner. The data of each vehicle is also continually captured in a database, and the same can be used for historical analysis. The system provides the fleet manager with comprehensive Management Information through reports like Location of vehicle, Driver behavior, Route details, etc.

All this helps the fleet manager monitor his expensive fleet assets better, leading to higher asset utilization, and lower operating costs.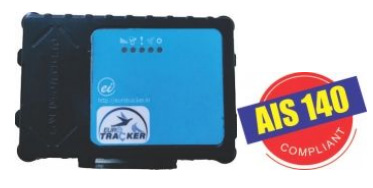 Benefits:-
Better Control over vehicle, leading to higher utilization and productivity
Greater "driver compliance"
Real time tracking with IRNSS, GPS Support
General:-
AIS-140 Compliant Vehicle tracking and Monitoring Unit.
Real time tracking with IRNSS, GPS Support
Large battery backup of 1100mAH
4 Digital inputs, 2 Digital Outputs, 2 analog input, 1 serial port to enable device to provide various customized features like Door Sensor, Voice Support, Tilt Sensor, Drum Rotation Sensor(DRS) and many more.
ICAT Approved as required by Ministry of Road Transport for Public Transport Vehicles & National Permit Trucks
Supports embedded Sim/Plastic Sim with 3v & 1.8v
Rugged ABS, IP65 compliant enclosure
Hardware Features:-
Quad-core GSM, GPS/IRMSS modules
6 hr internal battery backup
50,000 unsent data log Storage capacity
Wide input voltage range 9V to 36V works with vehicles having 12V or 24V Battery System
Software Features:-
Records current, max, and average speed with their time stamp & location
Mobile and desktop applications to see live data and various type of user friendly reports like driver behavior, trip reports etc.
Provision for Communication with multiple IP's
Over the air firmware upgrade(FOTA)
Emergency Button
Main power status, Ignition status, Indications
Auto and manual network switching